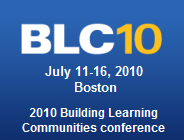 I'm in Boston for this year's BLC 10, which is Alan November's Building Learning Communities conference.
This is always the greatest conference.  This year, I am co-presenting with one of my former students "Jerry".  We will be discussing and demonstrating our "Kids Teaching Kids" classroom model and student screencasting.
Our sessions:
Wed, July 14th, at 11:45 am – 1:00 pm (Room: Statler)
Thu, July 15th, at 11:30 am – 12:45 pm (Room: Terrace)
See you at our sessions.  In the meantime, check out our iTunes Podcast or Mathtrain.TV.