by Eric Marcos
We use a variety of Tablet PCs to create our student screencasts.  We have also used iPads, Wacom Tablets and Macs.  Below, is a list of Tablet PCs we use or have used for screencasting:
The first Tablet PC I purchased was a Toshiba R25 3503.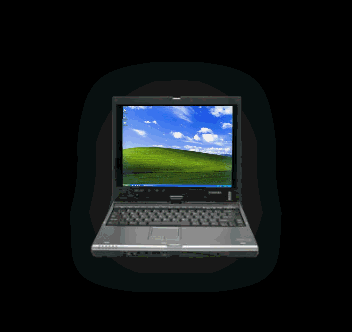 I loved it!  Recently, I installed Windows 7 onto it.  The processor is a bit slow by today's standards.  It's clunky, yet durable.  Nice big screen, loud speakers and accurate writing.  I bought it in 2005 and it's discontinued.  Almost 5 years later, it still works great!
---
I got a Gateway Tablet PC from school, but I don't recall it's model.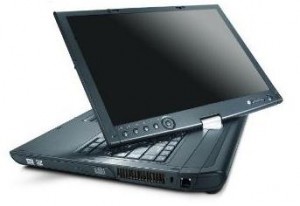 The company has changed since it was purchased and I have no idea if they still make tablets.  It is also clunky and durable.  Although, the installed speakers have worn a bit and they feedback at times.  So, we have to use it with the speakers muted.
---
For the most part, we use a Fujitsu 5010 Tablet PC.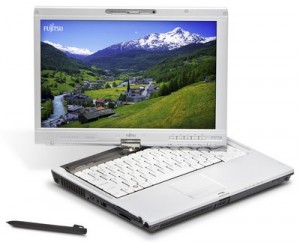 I purchased this last year.  I like it.  My major issue is that the installed computer speakers are lame.  It is difficult to get any true volume out of them.  My iPhone plays audio louder than this computer!  It is still a bit clunky, but it has been mostly great.  I like that the screen can swing both left and right.
---
I also got a few HP Tablet PCs from a grant.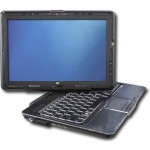 I am glad I did not pay for these.  I do not like them.  They are touch/pen, but the pen writing is not as accurate as the Toshiba, Gateway or Fujitsu devices.  We may have gotten a bad batch because I had to send all the HP's in for service after only a few months.
I hear the newer HP Tablets are better.  I think this is a good entry tablet if price is a major factor.
---
So, if price is a major obstacle, perhaps look at the HPs.  Or perhaps purchase a Wacom Bamboo tablet.  The Wacom tablet hooks up to both Macs and Windows computers.  It can transform your current computer into a "tablet pc". Otherwise, if price is not a major issue, then check out the new Fujitsu or Toshiba models.  I like the "active digitizer" tablets because they tend to write the best.
Some of the newer "slate" tablets, such as the Galaxy Tab, Xoom and the HP 500 Slate, seem very cool!  I want one of each!  But I'm not sure how they are for screencasting.
For my next Tablet PC, I'm looking at a slate.  I like the ones by Motion Computing and TabletKiosk, but they have slower processors and smaller hard drives.  They are also expensive.  However, I like the idea of the handle and the ease of mobility.
Well, thanks for taking this tour of some of the Tablet PCs we use or have used to create our student screencasts at Mathtrain.TV.  I strongly recommend anyone interested in buying a Tablet PC to first try it out.  Sometimes companies may even lend a demo device to a school.  If the specs list "active digitizer", that is a plus.  And if you're a teacher, please let the students use it!